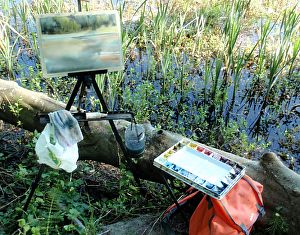 Early one Tuesday morning I went out to paint en plein air, alla prima in Watercolours at Jericho Park, which has wonderful ponds, reeds and marsh. It is so tranquil with all the birds chirping and fluttering about. It is one of my favourite spots to paint in the morning with beautiful back lighting.
This particular morning I had a bit more time to look for a different point of view of the ever changing marsh. I stopped in various locations to look over my shoulder to find a view that would appeal to me.
On one such place, I stopped just for a moment, with my painting back pack which my friend Marney-Rose gave me many years ago, my box of watercolour paper, paints and tripod easel, which I carried under my arm.
Suddenly a female Red Winged Blackbird landed on my tripod which surprised me as I had only stopped for a moment. I thought it must be hungry, having picked up the scent of my banana walnut muffin in a sealed baggie in my pocket on top of the camera.
I had to forego taking a photo and opted to feed the female with my other hand. It bravely flew over to my feeding hand and pecked away at the small bits of muffin, then flew away.
Later I stopped at a bench where a male Red Winged Blackbird came hopping along looking for a hand out. It also flew up to my hand to peck away at the crumbs but left a big chunk which turned out to be piece of walnut. I discovered he didn't like walnuts.
Back to the painting. I found a spot on the other side of the pond in a precarious location. One of the jobs of a creative artist is to think of ways to overcome obstacles and challenges.
The objective was to get the picture I wanted to paint. Sitting down was not an option as there was no place to sit and the view could not be seen from the angle that attracted me to this location in the first place.
Setting up the tripod easel was the biggest challenge, followed by setting up the paints and a place to stand without slipping down the bank under the log.
As always with en plein air painting, I see what I'm attracted to and what I want to paint.
The big conundrum for me is to stick with what I see and feel without being distracted by all the other stuff in addition to the changing light.
Some artists really enjoy working from reference photos as the picture is framed in the photo. This is all very good but there is no atmosphere, fresh air, birds chirping and buzzing about. I too take a reference photo for discipline and staying focused when I'm painting.
Occasionally I touch up in the studio but I can get caught up beginning to add too much information. I really like to keep my en plein air, alla prima (on location, all in one go) work nice and loose. That is where the freedom and joy in nature comes in.
Comment on or Share this Article →