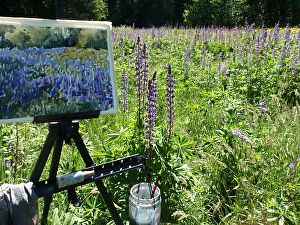 Right now there is a lot of "plein airing" going on, especially on these beautiful sunny mornings.
I haven't started the evening balcony paintings yet, but I should have. Last night would have been a perfect time to paint the evening sky with a very dramatic cloud and colour formations, accentuated by the lights on the ships in the harbour. Unfortunately I discovered a little too late to set up in the almost darkness.
One of my favourite painting locations has been Jericho Park by the duck pond.
Lately, many of my en plein air paintings, alla prima in watercolour, have not turned out.
It was a little more exciting earlier in the spring when the foliage was lower and the water in the pond was higher.
In painting outdoors, on location, my goal is to capture the essence, the mood of what initially attracted me to this scene.
I look for something that resonates with me, whether it being a dark back lit forest with a pond in the foreground, or patterns and reeds growing on the side of the pond, or some kind of contrast which creates drama.
Last Sunday I went back to a place on the north side of the pond at Jericho Park, where the male red winged blackbirds so aggressively landed on my easel, having picked up the scent of my muffin in the baggie.
When I arrived, the water level in the pond had shrunk, the patterns of the growth in the water had changed, and I really could not find a location to provide me with a view to capture anything of interest.
Fortunately it was early enough in the morning to have time to scout around, which I did for about three quarters of an hour, not finding anything that would draw me in.
Disappointedly, I sauntered back towards another earlier site on the other side of the pond.
On my way I discovered this huge field of Lupines, with a strip of Buttercups in the distance just below the dark forest, all beautifully back lit. The lilac purple blue Lupines contrasted with the yellow green leaves and grass beneath was awesome!
Suddenly a thought occurred to me – how am I going to paint this profusion of colour and small patterns? I paint mostly large smooth patterns of clouds, sky and water, allowing the watercolour to flow and blend into another colour, not florals and little patterns!
This scene is a multitude of patterns and colours all in one!
The good thing was that I was really attracted to this excitement.
I wandered into the Lupines up to my chest in some places and found a location next to a wild Rose bush full of bees, birds and butterflies.
But first, I took a few reference photos to get an idea of composition.
I placed my easel in such a way that the sun would not sneak up on me and shining on my paper at a crucial moment.
By the time I had set up, feeling really smug about this wonderful sight, apprehension set in.
Where to start and how to paint it - do I paint wet in wet, wet on dry, a combination of both or? This was the biggest challenge of all.
Since I don't expect all my en plein air, alla prima paintings to succeed to the framing stage, I take the risk to paint intuitively, energetically, without sketching, to get it down fast. Speed is the key to freshness! I also happen to like experimenting to see what I can discover.
Comment on or Share this Article →