« COMMON GROUND | Main | Packing Up »
UPHEAVAL
One of my watercolour paintings titled 'UPHEAVAL" is in the "Highlight on Jewish Holidays" exhibition at the Jewish Community Centre, 950 West 41st Avenue, Vancouver from May 12 – June 2.
So how does an Estonian Gentile end up this show?
When I was in Prague a couple of years ago, one of the most impressive sights in Prague was the Old Jewish cemetery in Josefov, the former Jewish ghetto. This cemetery, the oldest in Europe, was used from 1439 to 1787.
There are more than 100,000 Jews buried in this small plot, the graves being layered 12 deep in some places. The 12,000 tombstones are crowded together, some on top of one another with almost no grass between them.
This was one of the sights that really moved me and left an indelible impression. When I examined the tombstones closer, taking many photographs of this upheaval; the tombstones at various angles, began taking on personalities, as if they were real live people begging for help in being uprighted. It was difficult to tear myself away from this strong magnetic spell upon my departure for some unexplainable reason.
When I arrived back home in Vancouver, I had to paint what I remembered and felt from that amazing experience which was "upheaval". Hence the title "UPHEAVAL.
The completed watercolour painting sat in my drawer, waiting to be shown somewhere, until heard about the "call for artists" for "Highlight on Jewish Holidays" at the Jewish Community Centre.
My painting at last had found a place to viewed! Then there was the challenge of finding a suitable prayer to go with it. This turned out to be a really a wonderful experience, learning about the various Jewish holidays and customs.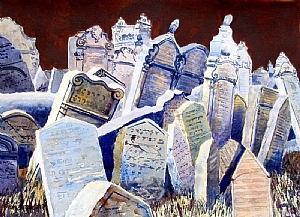 Comments