« A winner! | Main | An extraordinay artist »
http://digikogu.ekm.ee/filiaalid/kumu/naituste_vaated/eesti_kunst_paguluses/year-2010
http://www.ekm.ee/eng/kalender_print.php?d_fili=&event_id=720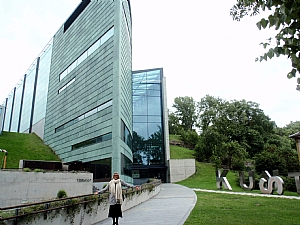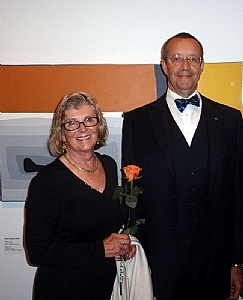 I'm back from an awesome opening of the "Estonian Art in Exile" exhibition at the KUMU National Museum of Estonia in Tallinn, which was opened by the President of Estonia, President Toomas Hendrik Ilves, my cousin!
The honour and the importance of this invitation hasn't quite sunk in yet, even when I look at the magnificent 3 ½ kilo (nearly 8 lbs) catalogue with all the biographies and 102 works of the 70 selected artists.
Three curators, Kersti Koll, Tiiu Talvistu and Reet Mark set out 2 years ago to search for Estonian artists in exile in Sweden, United States and Canada for this important historic
exhibition.
I was one of the 2 lucky ones to be selected from Vancouver. The other artist, Enn Erisalu, now sadly deceased, was the other artist, who has a few works in the permanent collection of the Vancouver Art Gallery.
KUMU, a state of the arts gallery opened in 2006, was awarded the "Museum of the Year" award in 2008 from the European Museum Forum.
To walk into the massive Great Hall at the KUMU and see my early abstracts "Relief" and "Quadrangle" hanging opposite Enn Erisalu and near the works of Osvald Timmas, whose estate funded a major portion of this exhibition, took my breath away, to say the least. Never in a million years did I think that the abstract works, painted under duress and a life of chaos at that time, would end up in such a prestigious gallery, let alone being in the permanent collection of a National Gallery.
My family fled Estonia when I was a small child, leaving everything behind; possessions, home and relatives, in order to escape being sent to the GULAG by the former Soviet Union. Defending his country was my father's crime.
To now be invited back from where I came and leaving part of me (my paintings) behind completes the journey.
My heart will always be in Eesti but my feet are firmly planted in Vancouver, Canada.
http://digikogu.ekm.ee/filiaalid/kumu/naituste_vaated/eesti_kunst_paguluses/year-2010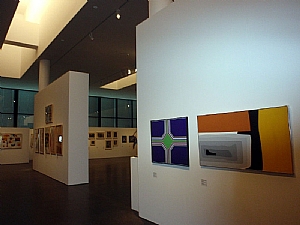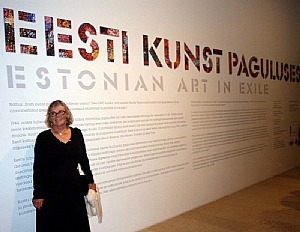 Comments
1 Response to An awesome journey!
Jackie Satterlee
via endabardell.com33 months ago
How very moving and exciting for you! A well deserved honor :-)
* indicates a required field