« THE BIG ONE | Main | CYBERNETICS »
Since I live in a part of Vancouver, Canada, which is easily accessible to everything I need; art supplies, groceries, bank etc. I can walk almost everywhere. Walking to a destination is forced exercise for me when I don't go swimming in the local pool or go dancing, both of which I love!
Along the way, especially when I walk downtown which is a 45 minute walk, I see our beautiful architecture as abstract cityscapes! I love the light and shadow a bright sunny morning casts on the high buildings in various shades of blue, grey, green and pink.
This is quite an inspiration! I have started a few paintings of this wonderful experience but have found it more challenging than the metaphysical images which come right out of my head! Will post a few paintings when they come closer to being recognisable!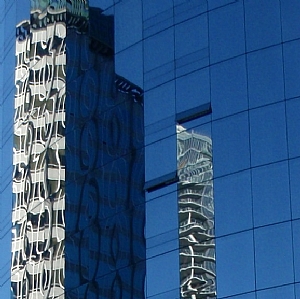 Comments