« The GAMBLER | Main | RESOLUTION »
When I think of the word "angle", I think of the many definitions of the word such as viewpoint or a sharp corner or perspective. They are all the same – a different way of seeing something that is not in a straight perpendicular or horizontal way.
Now that I'm painting abstract views of the Vancouver city skyline, I look up, instead of looking in for the metaphysical images or looking forward with landscapes.
Gazing up at the buildings extending towards the sky, I see various aspects which I need to flatten out into two dimensional shapes. The buildings in fact are still solid square blocks. It is the perspective that changes them.
In painting these, I place them right back to what they are, perpendicular rectangular buildings firmly planted on the ground.
It is like reconstructing the city which is really energizing!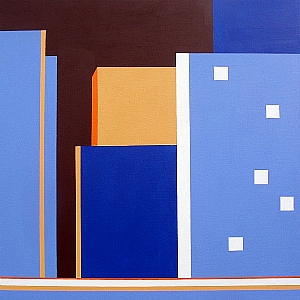 Comments