« TEACHING | Main | PASSION! »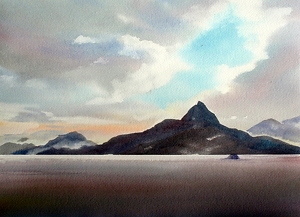 POWER (Anvil Island, Howe Sound, British Columbia, as viewed from Diane's house at Britannia Beach, British Columbia)
While visiting my long term friend Diane Brady and painting roaming clouds over mount and sea in watercolour (my favourite subject besides hard edge abstracts) in Britannia Beach, British Columbia, I stumbled upon a wonderful art gallery PORTICO GALLERY www.porticogallery.ca in Squamish.
Diane and I were just driving around Squamish looking for galleries to see if there might be a fit for my watercolour Sea to Sky skies, not really expecting anything in particular to connect, when we came across the Portico.
This gem has a wonderful open feel to it, owned and curated by Linda Bachman, an artist herself.
As we looked around and chatted with Linda, I mentioned that I had some watercolours of the local scenery, to which she was very receptive.
We set up an appointment for the next day to view some of my new and earlier Sea to Sky watercolours.
To my delight, Linda selected 4, two just fresh off the painting board and two earlier ones.
Sometimes good things happen when like minds in the right place, at the right time, connect.
I'm looking forward to a long and good relationship.
Comments
1 Response to Right Place at the Right Time
Becky Chinn
via endabardell.com25 months ago
Enda, I love this work, the colors, brushwork and light and simplicity of composition. This must be one of the many sky paintings you told me when meeting you.

Wasn't that an incredible week with Maestro Alvaro? I still try to get out although it snowed already and trying to get a few works ready for a show.
Thank you again for the ride up to W. Broadway the first evening. Happy painting. I wonder if you could give me Miki's email, I seem to have misplaced it.
Thank you for showing your beautiful works and enjoy immersing yourself under the Alvaro influence.

Best wishes, Becky Chinn (with the Red Cap)
* indicates a required field