« Dance Me... | Main | LUCK! »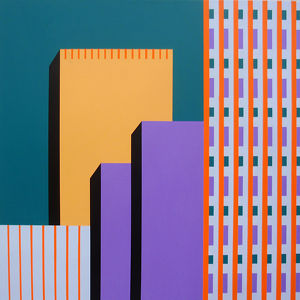 Last night I saw the play "Red" about Mark Rothko http://www.theartstory.org/artist-rothko-mark.htm at the Vancouver Playhouse, which was profoundly characterized by Jim Mezon as Mark Rothko and David Coomber as Ken. The play was superbly directed by Kim Collier.
It was truly the best! I don't remember being impacted by any other stage play as much as I did by "Red". It spoke to me on a very deep level. Perhaps it was because I could relate to where he was coming from on an emotional level as well as a geographical level. Rothko was born in Latvia. I was born in Estonia. Although we were born at different times and left our countries of birth for different reasons, I could understand the feeling of loneliness and isolation of being somewhat "different" in our "new land", not quite fitting in.
There is always the struggle to belong and to be true oneself at the same time. It is a constant challenge to know how far to go in expressing oneself without the danger of being unattainable or too abstruse. How can I go forward in my work, be truthful and survive too? Is the concept validated by sales or by fulfillment of the creation alone? How can I find the strength to maintain faith in my work without collapsing under doubt?
By no means am I comparing myself to the great Rothko, but the morning after viewing the play, sitting "up close and personal" in the centre of the second row from the front, where I actually saw droplets of perspiration on the actor's forehead and spittle flying out of his mouth in his outburst of emotion, I could really relate to Rothko.
The interesting aspect of the reaction in the audience in the theatre was similar to Rothko's experience in the restaurant. When the actor expressed his observations very graphically to his assistant Ken, some of the audience laughed, while I felt saddened to tears! It was perplexing! How can some people laugh while others felt sad in a similar situation?
Faith is so fragile, while doubt appears to constantly find ways to undermine the truth. This is why its important for artists to belong to an artists' support group in order to maintain emotional balance and confidence or at least have a "business buddy".
Comments
1 Response to Faith Versus Doubt
Jane Appleby
via endabardell.com22 months ago
Red is a fabulous play that I saw opening night and found it superb. My emotions were tremendously engaged and I felt I understood Rothko well. Being an artist myself, I have discovered the sensitivity of artists to be a gift now well understood. Perhaps that is why they create great art even though they do not know it and often second guess themselves and doubt. I am learning to let go of this judgement in myself and create and offer to show my work even though it is not always given a positive response. Sometimes it is not even noticed. That doesn't mean it wasn't worth producing. I agree with keeping faith alive and that others, especially artists can help us do this. Your work shows much faith Enda. Thank you for sharing it. Keep on and do well. It is worthy. Jane (www.janeappleby.com)
* indicates a required field