« New Studio | Main | Rediscovering Vancouver »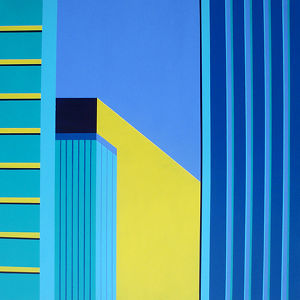 Who says that you don't need to know math in art?
In my non-objective work, which is painted on square canvasses measuring 24 x 24", 30 x 30", and 36 x 36" I use a lot of masking tape to achieve the straight edges. However, the masking tape is no longer in inches; it is in centimetres nearest to what used to be one inch or half-inch. I must use centimetre tools on an inch format.
So when I use masking tape in a linear pattern, hoping to arrive at the correct place on the canvas, I need to calculate the space between the tape intervals.
For instance, if I want to have 10 straight lines in an 8" space, I must figure out which size masking tape to use and how far apart the tape needs to be in order to achieve the desired effect...
The other day, I discovered that I really need to use a calculator as my spaces ended up in five-eight inches. Sounds complicated? Well, it is.
Today, I'm taking a calculator to the studio!
Comments