Nov.23.10 Blog
I recently heard from a collector that only 1 in 60 households in Canada owned original art. Considering there is so much good art available, especially in British Columbia, one would think that more people would own even a small painting.
When I started thinking about that, I remembered that people have sometimes mentioned that they were a bit nervous about buying their first work of art because they did not know if it was good or not.
Yes, art is an investment, but it is also for personal enjoyment. And you never know when an artist becomes world famous! You could have that first work in your possession which could be worth a fortune in the future.
I'm sure you have heard about such finds like the Tom Thomson painting found a few years ago, signed, autographed on the back, and given to a family, whose cottage he stayed in for a few days in Ontario. (I'm sure of the exact details, but…its close enough).
It is important that you like the painting and not worry about what your friends might think.
A fund raiser art auction is a good place to start! You buy the painting at a price you feel comfortable with and at the same time support a good cause.
Comment on or Share this Article →
How to Read Abstract Art
Sometimes viewers ask questions about my Abstracts, as to what is it supposed to represent, in order to understand it.
You don't have to "get" it, but only think about how it's made. Examine how the angles, shapes and colours interact with each other. Does one shape line up with another shape? Is it straight or angled? Why does the colour seem to flicker in some areas?
Abstract is like a new language or vocabulary. It means something but it is foreign to us until we learn it. It's a new way of looking at the world.
My source of inspiration is my subconscious. That's where all those images are brewing. When I shut my eyes, they surface in a soft form. I then quickly draw a thumbnail sketch to capture it before it transcends into another shape.
I have a sketch book full of hundreds of such images, which I transfer into another sketch book for the final "hard edge" version of the metaphysical image, which is then worked out in detail on the canvas.
By understanding this process, I hope you discover something that you have never seen before.
Comment on or Share this Article →
November Blog
I normally don't do commissions but a lovely lady and her father asked me to paint a much larger version of a painting titled "High Expectations", which was a gift to the President of Estonia, President Toomas Hendrik Ilves, when he was here in Vancouver during the Olympics. Now that I have completed a series of abstracts, I found it exciting to clean and rearrange my studio to accommodate this 48 x 72" painting, which I'm really looking forward to completing by December 8. I know that there will be a lot of "standing back" to see that everything is in its right perspective. I even bought a new little stepping stool to reach to higher areas of the canvas.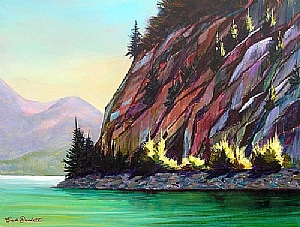 Comment on or Share this Article →