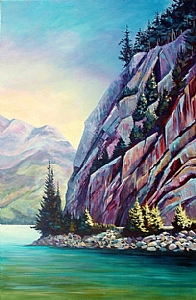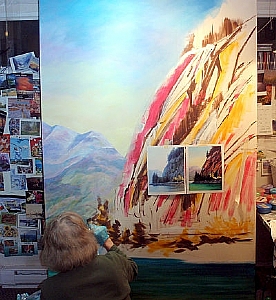 I have finished the BIG ONE, a commissioned larger version of an earlier acrylic painting "High Expectations".
It definitely had its challenges!
In the beginning I was very excited. This was followed by "I've got a long way to go" due to family events which I can't neglect. (I aim to maintain balance in order to have a long and healthy life).
Once I started in the easiest parts - water, sky and sketched in the patterns of the dynamic cliff, I became enthusiastic again. I love painting shapes, juxtaposing the angles to create a good composition.
Due to the size of the canvas, 72" by 48" (182 cm by 121cm) there was a lot of standing back, 12 feet or more, to see the whole picture in perspective.
I really enjoyed painting the various colours in this powerful cliff, creating the drama that this location at Porteau Cove on the Sea to Sky Highway to Whistler, British Columbia, deserves.
Today was also my lucky day! The sun was out in Vancouver! With help, I was able to photograph the painting outside in the shade!
Comment on or Share this Article →