RELIEF
Today I packed up my 2 abstract paintings, "QUADRANGLE" and "RELIEF" for the "ESTONIAN ARTISTS IN EXILE" exhibition which will be held at KUMU, the National Museum of Estonia, in Tallinn. I have the honour of being invited to participate in this very special exhibition of 50 Estonian artists from all over the world living outside Estonia.
There are only 2 artists' works from Vancouver. The other is ENN ERISALU, now deceased, whose work is also in the permanent collection of the Vancouver Art Gallery.
So, I'm really the only Estonian artist from Vancouver attending the opening reception in September.
There were huge emotions involved in this process of packing up these paintings which were painted in 1968 and 1969. My mind wandered back in time when handling the canvasses, which I had stretched and framed myself.
One of the frames was a bit battered from being moved so much and stored badly. I repainted it with black Gesso. "RELIEF" was framed with a metal kitchen counter moulding for some reason.
I looked at my old signature bearing a different surname, Bratt, which I could no longer identify with.
The years on the back of the paintings took me back to my hectic daily life with children, outside work and my studio space in the basement of the house in Lynn Valley, North Vancouver.
The craziness of that time is what catapulted me into painting the images I painted; "hard edge abstract", which now have been sought out by the curators of the National Museum of a small country which sang its way to freedom from Soviet occupation in 1991.
I thought about being amongst all the other Estonian Artists in exile and their lives and how they happen to be where they are today. Each one of us has a story. People often tell me that I should write a book. I'm quite sure that all the other artists' friends tell them the same thing.
My abstract paintings, which represent a metaphysical method of working out the concrete, are going "back home".
It is the ultimate honour to be in KUMU, the National Museum of the country of my birth, Eesti!
Comment on or Share this Article →
UPHEAVAL
One of my watercolour paintings titled 'UPHEAVAL" is in the "Highlight on Jewish Holidays" exhibition at the Jewish Community Centre, 950 West 41st Avenue, Vancouver from May 12 – June 2.
So how does an Estonian Gentile end up this show?
When I was in Prague a couple of years ago, one of the most impressive sights in Prague was the Old Jewish cemetery in Josefov, the former Jewish ghetto. This cemetery, the oldest in Europe, was used from 1439 to 1787.
There are more than 100,000 Jews buried in this small plot, the graves being layered 12 deep in some places. The 12,000 tombstones are crowded together, some on top of one another with almost no grass between them.
This was one of the sights that really moved me and left an indelible impression. When I examined the tombstones closer, taking many photographs of this upheaval; the tombstones at various angles, began taking on personalities, as if they were real live people begging for help in being uprighted. It was difficult to tear myself away from this strong magnetic spell upon my departure for some unexplainable reason.
When I arrived back home in Vancouver, I had to paint what I remembered and felt from that amazing experience which was "upheaval". Hence the title "UPHEAVAL.
The completed watercolour painting sat in my drawer, waiting to be shown somewhere, until heard about the "call for artists" for "Highlight on Jewish Holidays" at the Jewish Community Centre.
My painting at last had found a place to viewed! Then there was the challenge of finding a suitable prayer to go with it. This turned out to be a really a wonderful experience, learning about the various Jewish holidays and customs.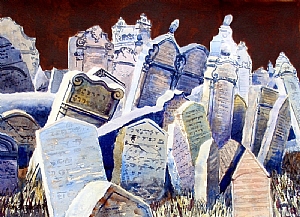 Comment on or Share this Article →