http://artists.ca/federation_gallery/painting_on_the_edgeA winner!
Well, that was quite exciting! Firstly, to have one of my paintings, "Scept", included in the 52 paintings selected out of 600 works submitted to the Federation of Canadian Artists' International competition titled "Painting on the Edge". Secondly, I won the Allan Edwards Award and cash as well. What an event!
I thank the jurors LISA BIRK, SUZANNE NORTHCOTT and BEN REEVES for selecting my painting for one of the 10 awards.

It seems that good fortune is coming my way in bundles!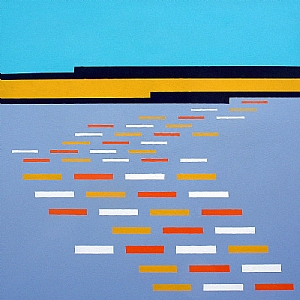 Comment on or Share this Article →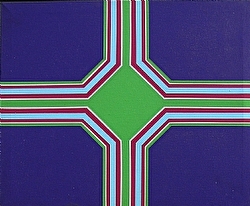 It is almost time to depart on the long awaited journey to the opening of "Estonian Art in Exile" at KUMU, the National Museum of Art in Tallinn, Estonia. This memorable exhibition runs from September 2 until February 2011 in Tallinn, from where it will travel to Tartu until May 2011.
I'm greatly honoured to have been invited to show 2 of my early abstracts, and more so, being along side Enn Erisalu's (now sadly deceased) work from Vancouver. The works of only 2 artists from Vancouver were selected, by the curators, in the 70 works from Sweden, USA, and Canada.
This is quite an emotional experience for me – to be invited back to the country of my birth and to show my paintings in the Estonian National Museum of Art, KUMU!
Estonia is a small Baltic country with a population of approximately 1.3 million people on the Baltic Sea, east of Sweden, south of Finland, west of Russia, and north of Latvia. One can drive north/south or east/west in almost 4hours.
My family fled to Sweden to avoid being sent to the GULAG by the Soviets when I was a toddler. My father's crime was defending his country. After 7 years of living in Sweden, my parents felt that they needed to move further away from the now USSR. Luckily, they had the foresight to choose Canada, Vancouver, in particular, for which I'm eternally grateful!
Back to Eesti. The balance of the 3 weeks will be visiting my many cousins and hopefully 1 elderly aunt, Miralda, Mom's sister, age 95, who has survived 2 occupations by foreign countries and 2 independences! I hope I have inherited some of those genes.
I shall write a very long blog upon my return at the end of September. I won't have time to write anything as I will be visiting and spending time around the house in which I was born in Varbla. This small house, which my Dad built for my Mom for their marriage, and where I was born, is still there.
It's time to go…
Enda
Comment on or Share this Article →