Last week, I plunged right into a plein air alla prima watercolour workshop, from morning till night for 4 days, given by the world reknown watercolour artist Alvaro Castagnet http://www.alvarocastagnet.net/ who paints with passion, which is really reflected in his work! That is painting outside all in one go!
Alvaro is a master painter of loose expressionist structures such as bridges, buildings and some figurative work.
I paint watercolour skies, fast and loose on Arches paper, alternating with hard edge exact acrylic abstracts of the metaphysical, and downtown buildings on canvas.
I love the loose and easy. I also love to create abstract composition challenges which need to be resolved by calculating, measuring and taping.
So here was an opportunity to paint downtown buildings, loose and easy, which I usually reserve for skyscapes. My downtown buildings are from reference photos, from which I take a segment, usually removing the perspective and rebuilding them into hard edge abstracts in vibrant acrylics on canvas.
Alvaro took us outside to paint Vancouver's Cityscape from various vantage points on Granville Island. The weather did not exactly cooperate with being outside with watercolours but, we persevered.
Even though I was passionate about watercolour and passionate about our beautiful city skyline with mountains and water all around, melding them was a very different challenge!
It took me while to eliminate the detail in order to access the exciting element which attracted me to a particular location. I must say, it was not the easiest! But I went for it with gusto!
What I learned from Alvaro back in the lecture salon was to paint what I'm passionate about and the rest will follow. Learn some technique (10%) but paint with passion (90%). The truth of the work shall prevail.
Comment on or Share this Article →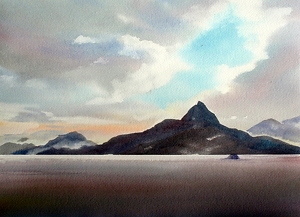 POWER (Anvil Island, Howe Sound, British Columbia, as viewed from Diane's house at Britannia Beach, British Columbia)
While visiting my long term friend Diane Brady and painting roaming clouds over mount and sea in watercolour (my favourite subject besides hard edge abstracts) in Britannia Beach, British Columbia, I stumbled upon a wonderful art gallery PORTICO GALLERY www.porticogallery.ca in Squamish.
Diane and I were just driving around Squamish looking for galleries to see if there might be a fit for my watercolour Sea to Sky skies, not really expecting anything in particular to connect, when we came across the Portico.
This gem has a wonderful open feel to it, owned and curated by Linda Bachman, an artist herself.
As we looked around and chatted with Linda, I mentioned that I had some watercolours of the local scenery, to which she was very receptive.
We set up an appointment for the next day to view some of my new and earlier Sea to Sky watercolours.
To my delight, Linda selected 4, two just fresh off the painting board and two earlier ones.
Sometimes good things happen when like minds in the right place, at the right time, connect.
I'm looking forward to a long and good relationship.
Comment on or Share this Article →