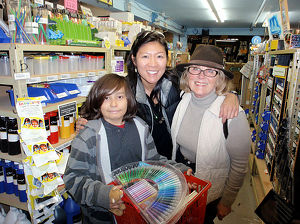 Julian, Lisa, and Enda
After my story appeared in our local newspaper, the Vancouver Sun (see previous blog post below), I met with 2 of the teachers of Admiral Seymour Elementary to select an underprivileged, talented art student from grade 4,5,6 or 7, who would emotionally benefit from continuing his desire to draw and paint.
On Friday, November 25, Pro D Day for teachers in the Vancouver school district, the student from Seymour Elementary, Julian, his teacher Lisa and I went shopping.
Lisa picked Julian up from his home and brought him to Opus http://www.opusframing.com/
on Granville Island, where we had agreed to meet at 3 PM. Lisa had only 2 hours for the shopping expedition, pick up and return Julian.
It gave me great pleasure to introduce Julian as an emerging artist to Heidi, the Opus Granville Island store manager, who just happened to be in the store at the time.
Julian was quite decisive about what kind of art supplies he wanted, which was quite amazing!
Julian likes to draw small, almost all cats. He wanted to experiment with coloured pencils, water colour pencils, brushes, coloured markers and pastel crayons. So we bought 2 larger "all media" sketch books and a couple of small "dry media" sketch books, pencil sharpener, two different types of erasers, retractable pencil with a couple of lead refills. He was also interested in a small artist's adjustable mannequin with a batch of pencils, which indicates that he may divert from cats to human figures.
When we had almost reached our $200 goal, Julian wanted a container to keep everything in. It had to fit into his backpack. At first he wanted it to be opaque so that no one could see inside but settled for slightly opaque. Then he wanted a combination lock to put on this container so that no one could take anything. Since the container was small enough to fit in his back pack, I mentioned that it would be best just to keep it safe in his pack or somewhere where no one else could have access to it.
I also took him to see my friend Jack Darcus' studio http://www.jackdarcus.com on Granville Island but did not have time to take Julian to Emily Carr College of Art and Design http://www.vcad.ca/

My impression of Julian, with his passion and determination, is that he will one day become a "famous artist"!
What a wonderful experience this shopping spree turned out to be! I don't know who benefitted the most, me or Julian!
I will also be stopping in at Admiral Seymour Elementary school a couple of times a month to see how the art students are doing.
Comment on or Share this Article →