I love my web host FINE ART STUDIO ONLINE (FASO), the service, that is. Haven't met Clint Watson in person, but I'm sure he is a very likable guy too, having designed the most user friendly web site management for artists.
Each time I get an idea to change something, a word, image, or order of works, I can log onto my website at any time of the day or night, change it in a moment, and Presto it's done! That's what I love about my website site hosted by FASO. It is the BEST! The price is right too!

I relish in the freedom of being able change the format, colour, anything to freshen up whenever I want! I don't know of any other artists' web site that enables them to do this and without any extra charge. To hire a person to this would mean that I would have to give explicit instructions and wait, followed by proof reading and correcting. If by some remote chance I want to change a word, more instructions and waiting. Having said this, there are many other artists' managed web sites out there but to the best of my knowledge, they don't compare anything close to FASO http://faso.com/.
Back to what I mostly enjoy about FASO which is accessing the visitor statistics to find out where and how people find my site! I love discovering what key words were used, which images and pages were viewed, when the viewer first viewed my site, and which part of the world, including the city they are from, while maintaining the anonymity of the viewer.
The best part of visitor statistics is that I can double check the information when I get a scam request with certain details such as "I'm an executive with a large firm in San Francisco being transferred to London, England to a new apartment and would love to buy your painting Sky's the Limit. My shipper will pay you with a bank draft when he picks up the painting etc". This is all in poor English grammar. I have heard that the "shipper" will then over-pay with a counterfeit bank draft, thereby requiring the buyer to ask for a refund from the artist. The "shipper" then has the painting with no payment to the artist. This familiar scam to the artists has been around for years but somehow still manages to keep going.
When I receive such a request for the purchase of a painting, I check the visitor statistics to see if it is a bona fide request, which by the grammar and nature of the request, it is not. But I do check the visitor statistics, just to make sure, as I have had a couple of genuine requests with poor grammar in the past. However, with the genuine requests the shipping and payment were totally different. It's the shipping and payment instructions that are a dead give away to a scam.
For my own satisfaction I confront the "scammer" with "there is no record of anyone from _______ viewing _____ painting recently". That puts a stop to a scam request as the scammer has no way of knowing how I know that he/she is not totally identified. The "recently" part could mean anywhere from today, yesterday or a week ago. Since I have a fairly large body of work, not all visitors look at everything at the same time.
Another feature about the visitor statistics that it shows what kind of apparatus the viewer used such an Apple, PC or Smartphone. Since I have a QR code on all my printed information in public places and business cards, people can scan my website revealing that they used a Smartphone. This tells me that my QR code is working.
One more thing, if you are an artist reading this, who may have questions about FASO, please comment on my website or email me. I would love to help!

I just love the flexibility of FASO!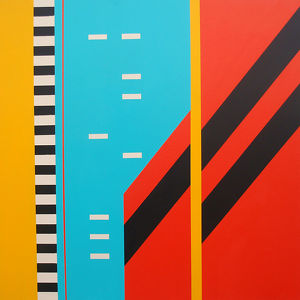 Comment on or Share this Article →