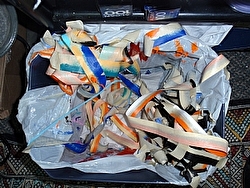 I'm addicted to masking tape! I have rolls and rolls of quarter inch, half inch, one inch and 1 ½ inch masking tape for obtaining straight edges in my abstracts, especially now that I'm painting the city of Vancouver.
I love the way it adheres to the canvas in straight and slightly curved lines. It sticks well and peels off nicely too. It is soft but firm and feels good.
So what happens to the used tape? It is sometimes used to see how a line or shape works (I'm always testing the composition) or pasting down an awkward corner, and then, it ends up in the trash bin where it looks like another abstract.
Comment on or Share this Article →