Thomas Alva Edison once said "Each time you fail, you have eliminated another wrong option", which brings me to my failure to measure accurately on one of my hard edge abstracts.
My paintings are mostly metaphysical images. Some recent works are abstract views of the Vancouver skyline. Each line and meeting point in the composition is carefully planned out.
An architect I'm not, but I love working with angles and straight lines, first by flattening the city, followed by rebuilding it with geometric shapes.
Since the canvas may not be exactly square to 1/8 of an inch (3 mm) and being somewhat supple, I may err by a few mm, which in the bigger picture shows out of line.
Last night, as I was working on 1 of my skyline paintings, wondering how to fix a small mistake, I came to the realisation that some of my best paintings have come out of fixing my errors!
If I look at it long enough on my viewing easel, eventually I arrive at an "aha" moment and know exactly how to fix it, whether it be by changing the line, colour or angle.
In this kind of flat abstract work, it becomes difficult to change anything as the edge of the previously painted shape has a tendency to show on the surface. In this case I try to sand it down a bit and repaint it or create another shape out of it. Most often the new design is superior to the original plan!
For some unexplainable reason, I have a need to "fix" things. Sometimes I actually create a problem in the composition which needs to be resolved. The act of resolution is one of the most inspirational moments for me!
Comment on or Share this Article →
When I think of the word "angle", I think of the many definitions of the word such as viewpoint or a sharp corner or perspective. They are all the same – a different way of seeing something that is not in a straight perpendicular or horizontal way.
Now that I'm painting abstract views of the Vancouver city skyline, I look up, instead of looking in for the metaphysical images or looking forward with landscapes.
Gazing up at the buildings extending towards the sky, I see various aspects which I need to flatten out into two dimensional shapes. The buildings in fact are still solid square blocks. It is the perspective that changes them.
In painting these, I place them right back to what they are, perpendicular rectangular buildings firmly planted on the ground.
It is like reconstructing the city which is really energizing!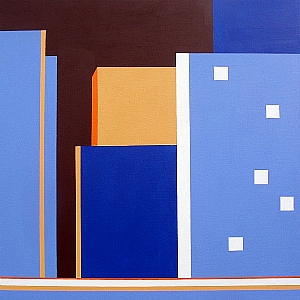 Comment on or Share this Article →