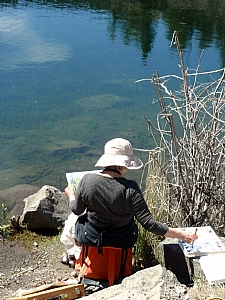 VANCOUVER CANUCKS VS PAINTING
A couple of weekends ago, my painting friend Marney-Rose Edge and I went on a Road Trip to Pentiction and Naramata.
The Road Trip had a dual purpose, one of which was "plein air" painting in watercolour along the way there and back.
"Plein Air" must be painted quickly to incorporate the rapid change of light. The challenge is also the humidity, or the lack of it, which became a huge challenge in the dry Okanagan heat. We both wanted to paint a bit of "wet in wet" skies, resulting in our nimble fingers not being able to keep up with the drying paper. We were also a bit out of practice in "plein air".
Since we also love hockey, planning to watch the game on the Saturday night in our self-contained Bed & Breakfast overlooking Lake Okanagan, we thought that we could get our "plein air speed painting" up to a level which would be somewhat satisfactory.
We had set up our paints and paper to paint and to be ready to go as soon as intermission arrived.
First hockey, then painting, followed by hockey, more painting, more hockey and painting! Talk about an efficient learning experience! There is nothing like pressure to save the day, whether it's our home team Vancouver Canucks competing in the Stanley Cup playoffs or painting during intermission!
Comment on or Share this Article →