The best thing about sending out art newsletters is the feed back from the recipients!
Most of my art news is invitations to art shows which often include a recognition or success of some sort, to which people reply with compliments.
This feed back is so rewarding, makes me feel really great, especially if I have had a recent "downer" whether it's art related, such as a painting going sideways, or some other matter.
I just love to read the word "Congratulations!" It always means success!
Sometimes people, whom I barely know, reply with compliments, which I really appreciate!
I'm amazed that almost strangers are so considerate and generous by taking time to send a few kind words.
So a huge "Thank you" to all those lovely people who send me messages of encouragement and support!
Comment on or Share this Article →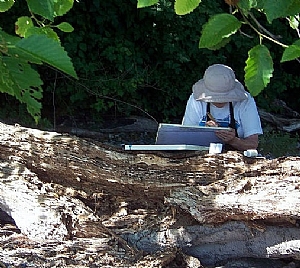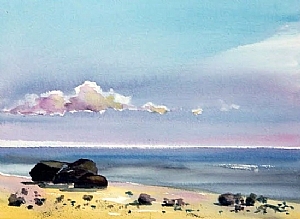 Painting #1, painted in 45 minutes
Plein Air Alla Prima
The title sounds very sophisticated! Right! Translated it is "on location, all in one go".
I should add the word "fast" in there too, as it is very fast due to the speed of changing light.
Last week, my friend Hardy and I spent a few days at my cottage in Point Roberts, catching up on our lives, swimming and a bit of painting.
Hardy and I have been friends since age 13, when we went to Saturday morning art classes at the old Vancouver Art Gallery, further west on Georgia Street in Vancouver, followed by swimming at Crystal Pool (no longer there) in English Bay.
So, swimming, painting, Hardy and I have gone together for a few decades, except Hardy is now a photographer as well as being the Chief Commander of Offices in the Marine Building www.execu-suites.com.
After a breakfast of strong coffee and Estonian pancakes topped with fresh strawberries and whipping cream, we headed off at low tide to see what we could paint and photograph.
I found a comfortable place in the shade with a good view of the ocean and sky (which I love). By the time I set up my Winsor Newton watercolour paints, water jug, brushes, and Arches 140 lb cold press paper, the composition had changed slightly. The tide does not wait for anyone, not even artists!
I painted 2 paintings facing one location and 1 painting in another direction in 2 ½ hours, not including setting up and cleaning up.
Now 2 ½ hours seems like a short time but in painting plein air it is quite long. By the time I finished the third painting, the tide had receded by 8 feet, exposing more rocks and beach!
Here is where the "alla prima" part comes in. "All in one go" without any touch ups in the studio, which is a challenge in decision making for a Libra, like me, bouncing back and forth with choices.
Amazingly enough, it all came together.
After painting hard edge abstracts for a couple of years, I wanted to take a break in July and August to paint fluid quarter sheets of sky and water, my favourite subjects in watercolour.
Comment on or Share this Article →