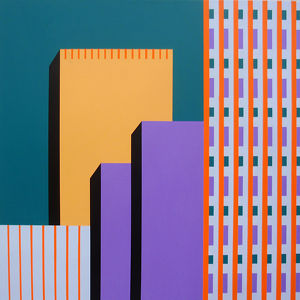 Last night I saw the play "Red" about Mark Rothko http://www.theartstory.org/artist-rothko-mark.htm at the Vancouver Playhouse, which was profoundly characterized by Jim Mezon as Mark Rothko and David Coomber as Ken. The play was superbly directed by Kim Collier.
It was truly the best! I don't remember being impacted by any other stage play as much as I did by "Red". It spoke to me on a very deep level. Perhaps it was because I could relate to where he was coming from on an emotional level as well as a geographical level. Rothko was born in Latvia. I was born in Estonia. Although we were born at different times and left our countries of birth for different reasons, I could understand the feeling of loneliness and isolation of being somewhat "different" in our "new land", not quite fitting in.
There is always the struggle to belong and to be true oneself at the same time. It is a constant challenge to know how far to go in expressing oneself without the danger of being unattainable or too abstruse. How can I go forward in my work, be truthful and survive too? Is the concept validated by sales or by fulfillment of the creation alone? How can I find the strength to maintain faith in my work without collapsing under doubt?
By no means am I comparing myself to the great Rothko, but the morning after viewing the play, sitting "up close and personal" in the centre of the second row from the front, where I actually saw droplets of perspiration on the actor's forehead and spittle flying out of his mouth in his outburst of emotion, I could really relate to Rothko.
The interesting aspect of the reaction in the audience in the theatre was similar to Rothko's experience in the restaurant. When the actor expressed his observations very graphically to his assistant Ken, some of the audience laughed, while I felt saddened to tears! It was perplexing! How can some people laugh while others felt sad in a similar situation?
Faith is so fragile, while doubt appears to constantly find ways to undermine the truth. This is why its important for artists to belong to an artists' support group in order to maintain emotional balance and confidence or at least have a "business buddy".
Comment on or Share this Article →
What do ballroom dancing and painting have in common? Not much, except both are activities in which I transcend into another world and both enrich my life.
In art, the completed painting is the physical tangible end product from a visual effect, whether it's conceptual abstract or in the form of watercolour landscape from our beautiful city of Vancouver, Canada.
In ballroom dancing, it's the sensation of feeling youthful with supple body movements in tune with the beat of the music. Ballroom dancing bestows me with an excellent energizing workout!
Both art and dancing are creative. Both are possible to perform until the age of 100 or more! One enriches my soul while the other shapes up my body by a pleasurable method. To me, dancing is much more exciting than going to the gym for physical exercise. It's also great exercise for the mind, provides clarity and increases memory.
One of my favourite activities it to dance non-stop for 3½ hours at www.dance-town.com every 1st and 3rd Friday, where Maggie Denise Bretton provides a 1 hour lesson before the dance, followed by latin, ballroom and swing dances with mixers (leaders and followers line up on opposite sides of the dance hall, joining in the middle for a dance).
There is nothing more rewarding than an invigorated body with aching feet at the end of a night of ballroom dancing! This is so good!
A happy body is a happy mind!
Comment on or Share this Article →