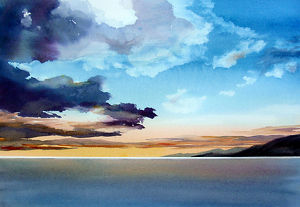 Breakthrough
LUCK!
"Luck is what happens when preparation meets opportunity" – Seneca, Roman philosopher, mid 1sth Century AD. This was also quoted by our now deceased, former Canadian Prime Minister Pierre Elliott Trudeau.
There is a lot to be learned from those Roman philosophers and from other philosophers as well. Sometimes I wish I could have studied philosophy. It's never too late I guess.
However, my commitment to living a balanced life, that is, balanced between my opus, family, and health, in a different order at different times, is of the utmost importance. Since this is an art related blog on my website, I have listed my work first.
Back to luck. Recently I have been invited to show my work at various events, some of which have been on the "back burner" for a while. This is a result of doing my art combined with searching for opportunities. So when an opportunity arises, I am ready, willing and eager to participate.
First of a series of opportunities was the Art Rental and Sales operated by the Vancouver Art Gallery www.artrentalandsales.com inviting me to show my work at the Barristers Lounge in the Vancouver Courthouse. When I returned to pick up the balance of the work after the exhibition, I was invited to show some of my abstract work in a downtown event coming up in the early summer.
The second of the opportunities was the short term 2 month rental of an enormous studio in Gastown, Vancouver, which I will move into with my artist friend Jennifer Harwood www.jenniferharwood.com at the beginning of April.
This was followed by the Omega gallery www.omegagallery.ca in Dunbar, Vancouver inviting me to bring some more work to the current group exhibition!
To my delight, the Vancouver Lookout, Art up High, www.vancouverlookout.com is exhibiting 12 Balcony Skies, "From Sea to Sky", for the second year. The sky paintings are a perfect fit in the 360 degree view tower in Vancouver, at a height of 553.16 ft (168.60 m).
Then, I received an email from a prestigious downtown gallery, who has been thinking of including me in their group show to open later this spring.
The previous Sunday I received an invitation to participate in a group show which I had to unfortunately decline as it was too soon, too close to a couple of other already booked events.
Yet another email, from a venue to which I had applied over 1 year ago, came out of the blue, to which I replied in the affirmative, of course, but later in the fall. The author of the email's comment was "Good things come to those who wait".
Good thing I went to Girl Guides when I was young, which taught me to always "Be Prepared"
Comment on or Share this Article →