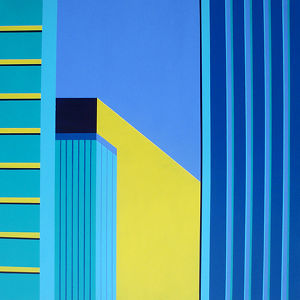 Who says that you don't need to know math in art?
In my non-objective work, which is painted on square canvasses measuring 24 x 24", 30 x 30", and 36 x 36" I use a lot of masking tape to achieve the straight edges. However, the masking tape is no longer in inches; it is in centimetres nearest to what used to be one inch or half-inch. I must use centimetre tools on an inch format.
So when I use masking tape in a linear pattern, hoping to arrive at the correct place on the canvas, I need to calculate the space between the tape intervals.
For instance, if I want to have 10 straight lines in an 8" space, I must figure out which size masking tape to use and how far apart the tape needs to be in order to achieve the desired effect...
The other day, I discovered that I really need to use a calculator as my spaces ended up in five-eight inches. Sounds complicated? Well, it is.
Today, I'm taking a calculator to the studio!
Comment on or Share this Article →
Albeit only temporary for one month, the move to this huge open space, with floor to ceiling wrap around windows is absolutely great! I can actually get physical here, meaning I can stand back and move stuff around without bumping into anything or moving something else out of the way first. It is wonderful!
The studio is shared with Jen Harwood www.jenniferharwood.com a very congenial studio mate working furiously at her acrylic impressionist landscapes while I tackle my structural non-objective hard edge acrylics with a Vancouver urban influence on 36 x 36" canvasses.
We moved in on Monday April 2 and moving out on Sunday April 29 unfortunately.
There is also space to display our art on the walls facing the open mall on the second floor at the top of the escalator. However, this is not a busy mall, with not much foot traffic, like most malls which is one of the reasons this space very affordable.
We are certainly spoiled which makes it difficult to move out at the end of the month.
Comment on or Share this Article →