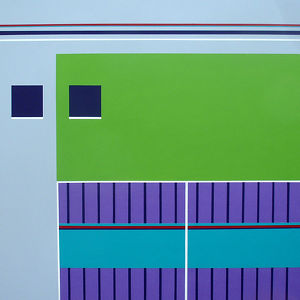 Artist Talk at Baron Gallery
Preparing for an Artist Talk, about Colour Field Painting and my personal story for the Baron Gallery's exhibition There is no Message, really opened my eyes and helped clarify the process of my art.
I must say that when I was preparing for this talk, I became more committed and more passionate about my work and kind of wished that I had been born a 100 hundred years ago in New York!
I began the talk with a brief description of Colour Field Painting and some of the key artists involved in the movement and whose work I liked and could relate to, such as BARNETT NEWMAN, MARK ROTHKO, KENNETH NOLAND, FRANK STELLA and JACK BUSH.
This was followed by the local key artists in Vancouver of the late 60's early 70's era, one of which was JOAN BALZAR, who inspired me with her bold enormous X's of black, yellow, red and blue. She believed in me and encouraged me and we became friends.
This research took me to a wonderful place as I was learning more about who they were and what inspired them, which in turn inspired me even more. All of this really helped me validate my own hard edge abstract painting.
I had given an Artist Talk last fall the CITYSCAPE, in North Vancouver, but it was a bit different. It was more about the definition of Abstract and my process. This time it was more about the influential artists and my personal, somewhat dramatic historical background, and what drove me to art. I had no idea that this stuff would still affect me so much. To my surprise, I was quite emotional!
One of my artist friends JACK DARCUS once told me that one should not look at a single artist for inspiration but an art movement, such as the overall picture!
Now looking back, it was the movement, but then an artist such as JOAN BALZAR came along who really moved me!
By looking at the Minimalist Art movement, it enabled me to clarify my purpose.
Some of the questions after the talk also helped me explain my purpose, which I hadn't really thought about, or even verbalized, as my art was coming from a place which is difficult to articulate.
I must say that preparing and presenting this Artist Talk took me to a deeper level, to which I had not gone before. It was a catharsis and refreshing at the same time!
Comment on or Share this Article →
Rediscovering Vancouver
I had the luxury, albeit only temporary, to share a 1500 square foot studio in Tinseltown with my friend Jennifer Harwood.
What a wonderful experience to be able to view my work from a distance of 20 – 40 feet, place it on the floor in the light of the window to dry, and to display my work on the walls without having to bring it out of stacks!
However, there was another bigger side benefit of being in this great open space – rediscovering a part of Vancouver which I rarely visit.
Walking back from the Vancouver Lookout, along Hastings Street, to my studio on the edge of Vancouver's famous Chinatown, was quite an adventure!
This area had fallen into disrepair since Woodwards Department store closed its doors decades ago. The area between Chinatown and Gastown certainly has its own share of some undesirable streets.
However due to the redevelopment of Woodwards into condominiums, purchased by a younger generation, the area has blossomed into quite a vibrant artistic community full of innovative shops with unique merchandise, along with many art galleries.
This seems to be the place where original ideas pop up.
I have been told that when art galleries begin to open up in these long forgotten locations, it is a good sign of positive future growth.
This is where some of my Colour Field work is exhibited in a group exhibition titled There is no Message at the BARON GALLERY.
I'm honoured and excited to demonstrating Colour Field painting there on Saturday May 12 from 1PM onwards.
I'm a risk taker, addicted to masking tape! (See photo).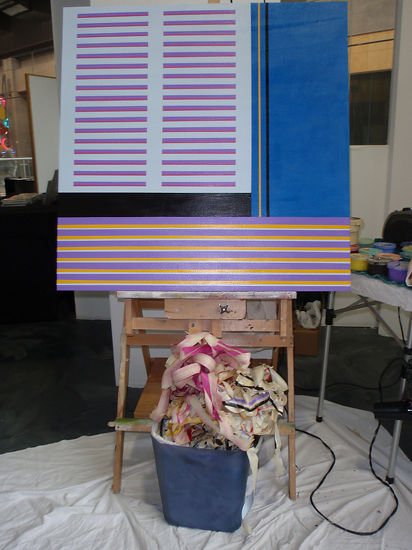 Comment on or Share this Article →