Mid-Main Art Fair
This was my third year in organizing the Mid-Main Art Fair at Heritage Hall in Vancouver.
It was a huge success with 25 % more guests attending this year.
Fortunately, the sky was overcast, which in Vancouver, British Columbia is the best kind of day on which to hold events.
When it's raining, as it often does, people have a tendency to not venture too far.
However, if it happens to be sunny, everybody heads for the beach, cycling, golf, or just walking – anything just to be outside!
All the artists, except for 1from last year, returned to participate in the fair. It looks like all the artists will be returning for next year's event on June 9, 2013 too.
The selection of the artists was based on the quality of their work and a good web site. I'm proud to say that all the artists were also great at interacting with the public, which, at an art fair is very important.
The event was an enormous amount of work for me in the publicity area with more than 50 publications and social media having specific deadlines. The information had to go out right on time, not too early and not too late, for maximum impact.
Needless to say, I got a bit burnt out but feel a great sense of accomplishment and really look forward to an even better event next year!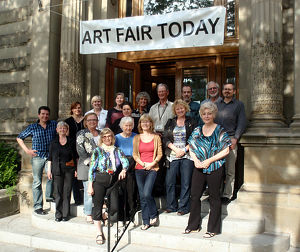 Comment on or Share this Article →